By Connor Ennis / Thursday, 8 December 2022
The new Porsche Tequipment Roof Tent is here. 
Christmas is just around the corner. If you are lucky enough to own a Porsche 911 then this would be the ultimate stocking filler. If you don't own a Porsche 911 then hopefully you can get one of those from Father Christmas this year as well!
Porsche say 'This practical adventure equipment transforms the sports car into a hotel room for nature-lovers.' Well, that's me sold, then. I'll have one, but how much is it you might ask? It is around £4300. Then you will need to purchase a £90k Porsche…
It doesn't fit only 911s, though. The roof-box for two can be fitted to a Panamera, Taycan, Macan and Cayenne. And unlike a motorhome, you're not pegged by a 55mph speed limit because the Porsche tent is rated up to 80mph. 
When extended, it opens up to create 27,300cm2 of living space, which is plenty of room for couples on a weekend getaway.
Facilities include two side windows, which let you take in the beauty of your surroundings. Both windows open for ventilation and come with an insect guard to keep out bugs. They also have blackout blinds if you fancy sleeping in late. On top of that, there's a roof-light that affords romantic star gazers a window onto the night sky.
A good night's sleep is guaranteed by the high-density, integrated polyfoam mattress and breathable cotton-blend walls. The walls are also insulted on the inside and feature a quilted design, with artwork that includes a mountain silhouette and Porsche logos. And don't worry if the weather is less than perfect: there's a separate rain cover and water-resistant zips to keep you dry.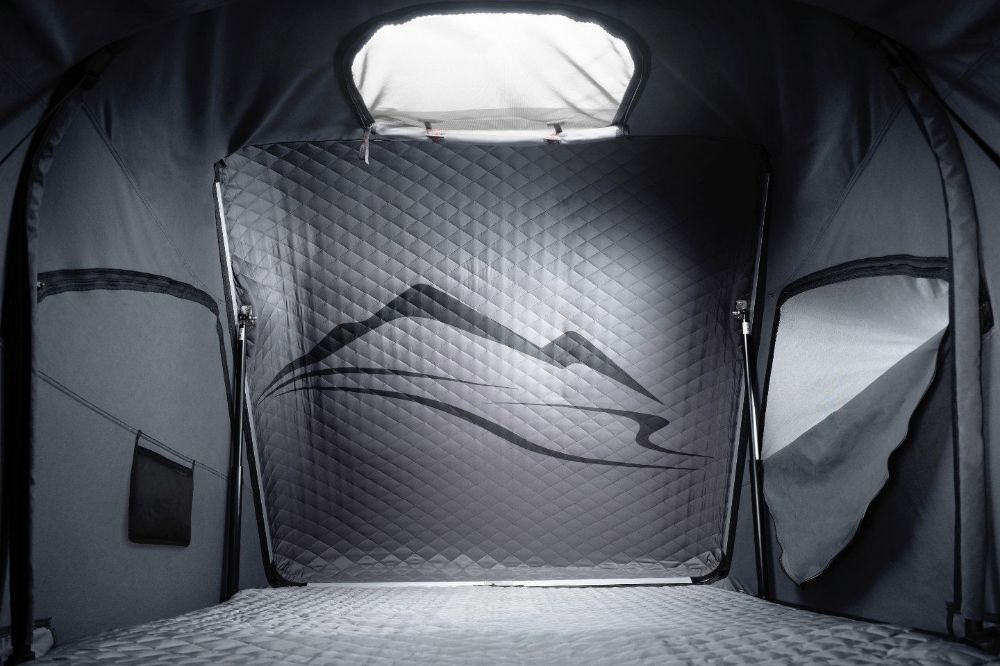 'Camp Porsche' is quick and easy to erect. Simply pop the lockable safety latches and open the hard-case assisted by two gas pressure struts. All that's left then is to position the telescopic ladder and add the four poles that keep the structure taut.
If you're interested in the Porsche tent – and it's hard to imagine that anyone wouldn't be – it comes in a choice of black and light grey or black and dark grey for the hard-case, with a standard matt black Porsche logo on the side to advertise that this is no ordinary tent. You can also accessorise, with an optional inner tent, a heated blanket (oh yes) and a 'shoe and bag' organiser.
It is definitely on our Christmas list!